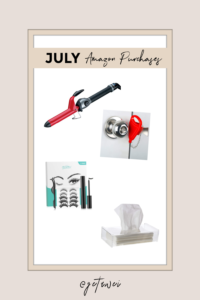 Did a mini Amazon haul!
THINGS I BOUGHT:
1// Babyliss 1.5inches Hair Curler
I FINALLY repurchased my hair curler. If you guys didn't know, I have been using this hair curler since 2014 but after daily use for almost 5 years, it finally stopped working last year. I got the replacement in yesterday and I'm SO EXCITED. It's so worth the money guys!! It's lasted me so many years and I used it DAILY. Also what I love about it is that it doesn't catch my hair; it curls super smoothly
2// Door Lock
Now that I live alone, it was really important for me to get a deadlock. I actually saw this on Tik Tok but it works really well!
3// Magnetic Lashes
I've wanted to try magnetic lashes for SO LONG but the ones that I've seen on ads have all been pretty expensive and I found a few good ones on Amazon!! These ones are super cheap and the eyeliner acts as the magnetic!
4// Acrylic Tissue Box Holder
I wanted to get this because all the tissue boxes I have are not very minimal and it doesn't go with the aesthetic of the home (wow this screams 1st world problem to the MAX……… I'm ashamed lol) anyway, was this necessary? Absolutely not. Did I get it anyway? Yep.
You can see below for all the links under Shop This Post! 🙂