As someone who started building her jewelry collection a few years ago, I always get asked, "Lisa, what are your favourite pieces?" or "if you had to pick ONE piece from each category, what would it be?"
I wanted to make this guide for all those who are JUST starting a jewelry collection so you can avoid some of the mistakes that I did when I first started such as collecting items that were from mass retailers which I ultimately didn't LOVE and they also didn't last very long.
If you already started your collection, hopefully you'll still be able to see what my foundational pieces are and also maybe inspire you for your next pieces!
STEP 1: DETERMINE WHAT KIND OF JEWELRY WEARER YOU ARE
The first step is knowing what kind of jewelry wearer you are. Knowing this will help you shop better because you'll know what quality and what price range you should expect which aligns with your needs and expectations. This will also prevent regret!!!
In my opinion, there are two types of jewelry wearers:
LOW MAINTENANCE
You can be a low maintenance jewelry wearer if you fit any the following descriptions:  
Too lazy/don't want to take off jewelry 

Don't mind keeping jewelry on at all times

Sleeping/washing with jewelry on doesn't bother you

Are you sensitive or allergic to non-solid gold pieces? Some individuals have poor skin reactions to other types of metals that aren't solid gold
If you are a low maintenance jewelry wearer, it might be better to purchase solid gold pieces and you may be expected to pay a higher price point due to the quality
HIGHER MAINTENANCE 
You can be a higher maintenance jewelry wearer if you fit any the following descriptions:  
Get bored easily? Want to have a RANGE of different products day to day

Don't want to wear the same thing all the time

Don't like sleeping with jewelry on

Isn't particularly sensitive to jewelry qualities
If you are a higher maintenance jewelry wearer, it might be better to purchase gold vermeil pieces because since you'll be taking off the pieces at night anyway, you won't need to pay the price point of solid gold!
STEP 2: PRIORITIZE WHAT CATEGORIES ELEVATE YOU THE MOST
Of all the jewelry categories: rings, earrings, necklaces, bracelets, anklets… Which categories matter to you the most and make you feel most beautiful?
For me, I can't go without having necklaces or rings around my finger. I have eczema on my hands and I am also self-conscious about the shape of my fingers, so I like to have rings to distract what's going on down there LOL. But also, I feel quite bare without a necklace so I like to have that too in order to elevate my outfits. 
I've recommended pieces in each category for you to check out, and you can use my link here for 10% off all Mejuri pieces and the pieces I'm recommending. The discount will be automatically applied upon checkout and no code necessary! This code is only available for first time buyers.
Please see below for the items in each category… This is probably the hardest thing I've ever had to do in my life # DRAMAQUEENHOUR
For the pieces I'm recommending, I've also kept in mind the price in each category for people who are entering the industry for the first time and just starting their jewelry collection. Of course, you can also watch some of my other videos like here and here for a full collection of my products!
Watch the video here with my full list of recommendations!
​
How To Start a Jewelry Collection ft. MEJURI | getawei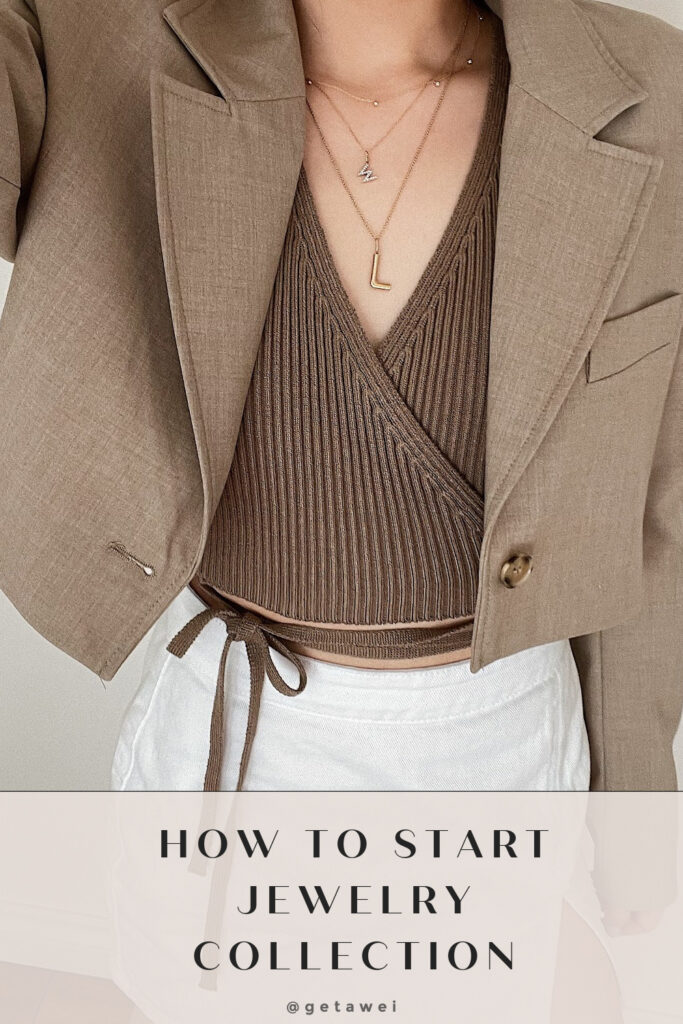 ​
PRODUCTS MENTIONED
Mejuri: use link for 10% off and list of items in my favourites:
http://edit.mejuri.com/getaWEI2020
Engravable Necklace
Diamond Pendant + Chain Necklace
Boyfriend Chain
Lotus Necklace
Layered Spheres Necklace
Boyfriend Bold Bracelet
Boyfriend Bold Chain Anklet
Bold Stacker
Duo Ring
Boyfriend Stacker
Croissant Ring
Threaders
Spiral Earrings
Bold Hoops
Editor Hoops
See you in my next video 😉
Join my secret community by registering your email on
https://lisawei.com/
Love,
Lisa