Since HIMYM is coming to an end, I thought I'd start my own version by sharing the story of how I met my roommates (HIMMR). But I promise you it won't be as long as HIMYM because I really don't want to deprive you from your basic needs like food and sleep just so I can blab for 10 years like Ted Mosby (how inconsiderate) (jk, I love the show).
A lot of people assume I knew my roommates from before because we're pretty tight but that's actually not true at all. The truth is, I met them based on pure luck (aka fate). If you want the short story, I met them after I had already signed my lease and claimed my bedroom #sketchy. But luckily, I happened to like them (LOVE them actually) so… #THANKYOULORD #IAMBEYONDBLESSED
Now, for those curious folks, this long version's for you. And me. And this blogpost. But let's just say it's for you so you feel special for the day #ImSuchASweetheart.
Once upon a time in a land far, far, away (Vancouver)… Lisa Wei was sitting in her room having an anxiety attack (well… that escalated quickly). No but like legit, an anxiety attack.This was due to the fact that she had applied to Western a couple months back (March/April ish) and they still didn't tell her whether or not she got accepted even though it was already freaking AUGUST like frick how long are you gonna take?! ANYWAY… (I'm gonna stop writing in 3rd person now) I was extremely anxious because since I was in Vancvouer at the time, I had no idea where the hell I was going to live coming September (TRUST, YOU WOULD BE ANXIOUS TOO). You see, I didn't have a place in Toronto because I was really hoping that Western would've accepted me already so I didn't bother looking for an apartment. But since they never got back to me… I was homeless. #DramaQueenHour. But really though, I debated between staying in Vancouver for a year doing nothing, go back to Toronto but live on the streets, or sell my soul (jk but I was really desperate so I might have considered).
Despite my nameste-looking pictures that summer, little did you know, behind that smile I was stressed the eff out (do you see why FB pictures are so deceiving?!). My parents were really worried for me (as they should cause their poor little girl might be living in a bush), so we ended up making the decision to stick with UofT because at least they wanted me at their school :')
Even though I decided to just suck it up and stick to living in Toronto, it didn't solve the issue of my homelessness. Eventually the date of my flight rolled around and I knew I would be landing with no place to go. Thankfully, that morning:
Mom: Would you feel better if I came with you?
Me (in my head): OMFG THANK YOU YES YES OMFGGGG THANK THE LORD (not the one who sang "Royals") I LOVE YOU EVERYONE, I LOVE YOU MOM YES I WAS WAITING FOR YOU TO SAY THAT WHAT TOOK YOU SO LONG I THOUGHT YOU WOULD'VE NEVER SAID IT
Me (outloud): yeah… sure… I guess… if you want… you really don't need to…
Me (in my head): YOU BETTER NOT SAY YOU DON'T NEED TO OMG I NEED YOU PUH-LEASE COME WITH ME I'LL DO ANYTHING
Mom: Okay, I'll see if I can get a ticket
Me (in my head): DON'T WORRY I'M CALLING ALREADY I'M ON THE PHONE EVERYBODY (nobody was there) SHUDDAP I NEED TO GET A FLIGHT
You know that feeling when you want something but it's not very polite of you to ask so you're just dying for them to bring it up so you don't have blood on your hands and at the same time make it seem like it was their idea? (eg. your friend had food and you didn't want to be like 'can i have some' so you wait for them to be like 'do you want any?' and you're like "FINALLY WHAT TOOK YOU SO LONG TO ASK" #JustAdmitIt #YouTotallyDoThat) Yeah, that was me.
Luckily, we fell in love with the first house we visited so we immediately signed the lease (this is still in Toronto, btw). After the lease was signed, I went for my frosh leader training for UofT. Four hours into the orientation, I received an email from Western saying that I got into Western (aka they want me #YeahThatsRight).
My reaction: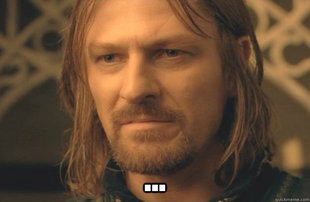 I mean, don't get me wrong, I was thrilled but SERIOUSLY?! Dude, I just signed the lease that same morning, why do you have to do this to me?!?!?! My head was racing because I wanted to go, but I didn't have any of my courses picked out and I didn't have a place to live. Logically, it wasn't circumstantially in my favour to accept the offer. But thankfully, I have an extremely encouraging mother (LOVE YOU MOMMA) and best friend (hi Jen) who told me that I should always do what I feel is right because all those other things can be dealt with later. Either way, I was under pressure to make a decision between Western vs. UofT within the span of 10 minutes. And that, my friend, was when Drake's wise words came to play. YO to the freakin' LO. #IDontEvenLikeHim #OhWellYOLO
After I made my decision, I went back to the landlord and I told him my dilemma and he actually encouraged me to go and "follow my dreams" #DontTellMeWhatToDo. He even ripped the lease and gave me my deposit back #WhatANiceMan. With that, momma Wei and I packed my bags YET AGAIN and drove to London.
At this point all the residences were (apparently) full so I couldn't live on campus (side note, on Sept 5 London Hall emailed me saying that they had one bedroom. …. … … #RUSerious). I was sure I had to live alone for the year. That weekend, I probably went into 7 different apartments/houses/bushes/cardboard boxes but still couldn't find what I was looking for. I had one last apartment coming up and I was pretty darn sure I was gonna take it regardless of whether or not I liked it. At that point, it didn't matter my preferences because I just needed to find a roof over my head #Despo. Now… you might be guessing that the last apartment = my roommates' apartment yaddi yadda and we lived happily ever after. Right?
WRONG.
#WhyDoIDoThisToYou
#AndImNotEvenGoingToFinishTheStory
#BecauseMyRoommateSaidMyPostWasGettingTooLongSoBlameHer
Stay tuned for next week! (hahahaha apparently I think I'm legit by talking like it's actually a TV show that's being aired) #IWish
Love,
Lisa